Innovative Digital Manufacturer

With 12 years' specializing in the in the field of USB data transmission and charging, ORICO's products have been sold to over 80 countries and regions offline and online.
The Design Concept of "Easy Your PC"

ORICO keeps investing in R&D and develops innovative products to provide a better user experience.
Matured Industrial Chain

ORICO's business scope covers integrated industry chain including R&D, manufacture, marketing and sales center which enables great production capacity.
Diversified Brand Planning

7 product lines have been implemented with over 2000 SKU for storage expanding products, mobile & PC peripheral, electronics and more.
Featured Products
Leading The Trend
NVMe M.2 SSD Enclosure (10Gbps)

ORICO TCM2-C3

NVMe M.2 SSD Enclosure (10Gbps)

ORICO NS500U3

3.5 inch 5 Bay USB3.0 Hard Drive Enclosure

ORICO WS200RC3

3.5-Inch External Hard Drive Enclosure

ORICO 9558U3

M.2 NVMe SSD Enclosure

ORICO M2PV-C3

Aluminum Alloy 4 Port USB3.0 HUB

ORICO M3H4-V1

Portable Power Station 500W

ORICO PA500-2A4U

120W 10 Port USB Smart Desktop Charging Station

ORICO DUK-10P
Honor The History, Witness The Victory
For the past 12 years, every step we took found an echo in the purpose – 'Made in China, Innovated from China'.
2021
Joined Xinchuang Alliance Industry Association and incubated subsidiary brand – IAMAKER.
2020
Being selected as the 18th Shenzhen Famous Brands and the 7th Credible Global Brand; incubated subsidiary brand IDSONIX and achieved strategic cooperation with Lenovo on personal cloud storage and drive enclosures.
2019
Celebrated ORICO's 10th anniversary and incubated subsidiary brand – Yottamaster.
2018
Listed on the China's top 30 cross-border e-commerce overseas brands in 2018 and started overall brand upgrade.
2017
New industrial chain incubation platform of ORICO Internet & Creativity Industrial Park was established officially.
2016
Quality Control Center was established by PICC IWS and Dongguan Quality Inspection while built up the strategic partner relationship with Fresco.
2015
ORICO branch in Hunan Province was established, which marked the officially operation of brand's global e-commerce center. At the same time, ORICO Internet & Creativity Industrial Park was founded in Dongguan. The subsidiary brand – NTONPOWER started to incubate.
2014
Kept improving industrial chain and maintained high development speed with 6 factories.
2013
ORICO was awarded "National High-tech Enterprise" certification.
2012
Started to develop self-industrial chain and optimize packaging, injection molding technologies. Products entered into global markets covering America, Spain, Britain, French and others.
2011
Developed offline channels in Thailand, Korea and Germany. Meanwhile the headquarter moved in Shenzhen Zhonghaixin Science & Technology Park.
2010
ORICO officially landed on Tmall, JD, Yixun, Newegg, Amazon, Suning, Gome and more mainstream e-commerce platforms, expanding online markets.
2009
ORICO was founded formally and first released the 'Tool Free' drive enclosure.
Cooperation Process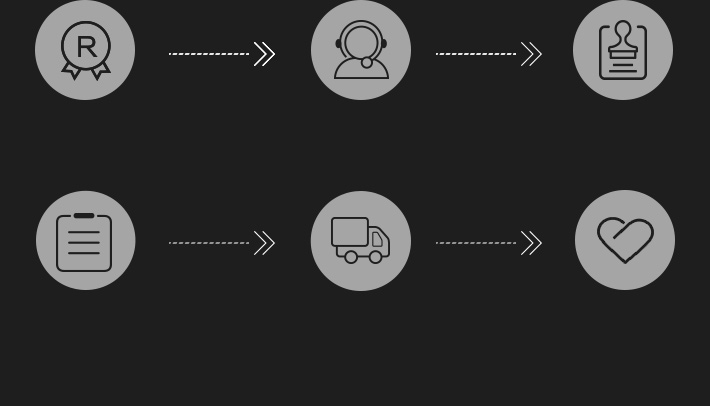 step:1

Quick Meeting

step:2

Application in Review

step:3

Sign Agreement

step:4

First Order

step:5

Follow-up Service

step:6
Become a Distributor
Products you are interested in?
Computer Peripheral
Phone Peripheral
Electronics
SSD
Entertainment Series
Smart Life Series
Outdoor Power Station
Are you willing to keep inventory?
SUBMIT